NPrinting is a comprehensive reporting solution offered by Qlik that allows users to create and distribute highly customized reports from their Qlik Sense and QlikView applications. It enables businesses to transform their data into meaningful and actionable insights, delivering reports to the right stakeholders at the right time. Here is a full overview of NPrinting and its key features:
Report Generation
NPrinting enables users to create pixel-perfect reports using drag-and-drop functionality and a user-friendly interface. Reports can include charts, tables, images, and other visual elements, providing a professional and polished look to the output.
Data Filtering and Slicing
With NPrinting, users can filter and slice data to generate reports based on specific criteria, such as regions, time periods, or customer segments. This allows for targeted and relevant reports that focus on the most critical information.
Report Distribution
NPrinting offers various distribution options to ensure reports reach the intended recipients. Reports can be distributed via email, saved to a file server, or published to a web portal. Recipients can receive reports in various formats, including PDF, Excel, Word, and PowerPoint.
Scheduling and Automation
Users can schedule report generation and distribution at specific intervals or trigger them based on events, such as data updates. This automation feature saves time and effort, ensuring reports are delivered consistently and on time.
Report Customization
NPrinting provides extensive customization options to tailor reports to specific business requirements. Users can define report layouts, apply corporate branding, add headers and footers, and include custom text or watermarks, resulting in personalized and professional-looking reports.
Multi-Channel Reporting
NPrinting supports multi-channel reporting, allowing users to deliver reports through various channels simultaneously. This includes email, file storage, web portals, and other destinations, ensuring that reports are accessible to recipients in their preferred formats and locations.
Security and Access Control
NPrinting offers robust security features to control access to reports and ensure data confidentiality. Administrators can define user roles, assign access permissions, and apply filters to ensure that each recipient only receives the relevant data.
Report Bursting
NPrinting supports report bursting, which enables the creation of personalized reports for different recipients within a single distribution task. This feature allows for efficient and targeted communication, delivering customized reports to individual stakeholders.
Advanced Report Formatting
NPrinting supports advanced report formatting options, such as conditional formatting, interactive navigation, and dynamic data linking. This enables users to create interactive and visually appealing reports that facilitate data exploration and analysis.
Scalability and Performance
NPrinting is designed to handle large-scale reporting requirements. It can efficiently generate reports from massive data sets, ensuring optimal performance and scalability even in complex reporting scenarios.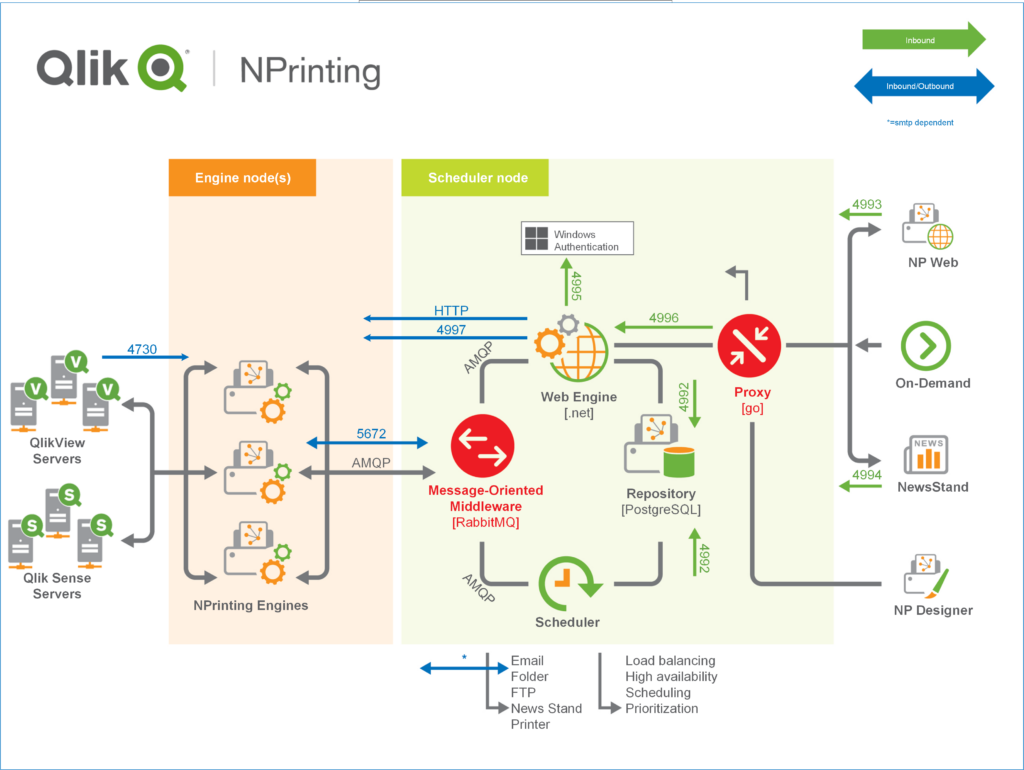 Overall, NPrinting provides a robust and flexible reporting solution for businesses using Qlik Sense and QlikView. Its powerful features, customization options, and automation capabilities enable users to generate, distribute, and consume reports that drive informed decision-making across the organization.
Additional Resources