Embedded analytics refers to the integration of analytics capabilities and content into various applications, products, websites, or portals. It eliminates the need for users to switch to separate analytics applications by providing them with the relevant data and insights right where they work. Whether it's employees, customers, partners, or stakeholders, embedded analytics empowers them to make informed decisions, take action faster, and derive value from data without disruption.
Examples of Embedded Analytics:
External Portals
Securely provide customers, partners, and stakeholders with valuable insights into your business ecosystem. Optimize processes, foster innovation, and strengthen relationships by offering relevant analytics within external portals.
Business Applications and Processes
Enhance employee decision-making by embedding analytics insights directly within applications like ERP, CRM, HR, and other critical business processes. Empower employees to access data-driven insights at the point of decision-making.
Public Websites
Elevate the user experience of your web and mobile platforms by incorporating interactive analytics. Surface data-driven insights, foster knowledge sharing, and deepen engagement with your audience.
Commercial Software Products
Differentiate your software products by incorporating best-in-class analytics, visualizations, and dashboards. Provide your customers with the contextual insights they need to drive value and increase adoption.
Qlik's Embedded Analytics Platform:
Qlik offers a modern and powerful embedded analytics platform designed to deliver intelligence anywhere it's needed. Here's why Qlik stands out:
Seamless Data Integration
Qlik's platform allows you to combine any data source, regardless of size, and create powerful embedded data analytics. From simple widgets and web mashups to fully customized embedded analytics applications, Qlik supports a wide range of integration possibilities.
Unparalleled Data Exploration
With Qlik, users can freely explore their data in any direction. The platform's Associative engine indexes and understands every relationship in the data, enabling users to uncover insights that traditional query-based analytics tools might miss.
Rapid Deployment
Qlik's platform offers an easy-to-use interface and a complete set of open APIs, allowing developers to build and deploy rich, interactive analytics applications in a matter of weeks. Accelerate development, reduce time-to-market, and provide an intuitive analytics experience to end-users.
Flexibility and Development Capabilities
Qlik's broad set of RESTful APIs, built using modern standards like JSON, enables developers to leverage familiar frameworks, languages, charting libraries, and data integration options. This flexibility ensures that embedded analytics solutions can be built and extended within any application or browser-based UI.
Security, Scalability, and Performance
Qlik's platform is optimized for security, scalability, and performance. It offers a single governance framework for common security and manageability, can be deployed on-premise or in the cloud, and handles massive data sets with its high-performance in-memory analytics engine.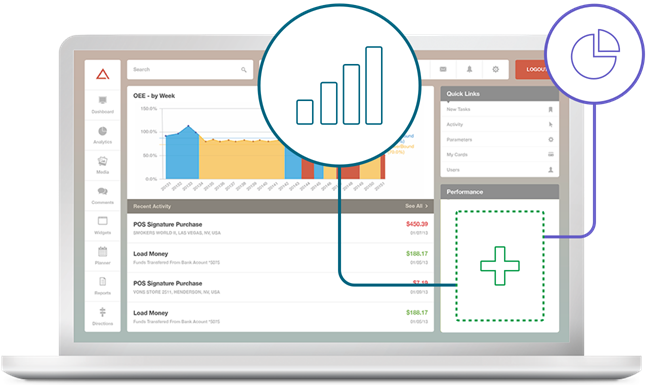 To Build or to Buy:
While developers may consider building their own KPI dashboards, visualizations, and reporting functionality, leveraging Qlik's complete embedded analytics platform brings several advantages. It delivers an intuitive analytics experience, provides best-in-class BI technology, accelerates development, reduces time-to-market, and benefits from ongoing product development. By choosing Qlik, organizations can customize white-label analytics solutions to meet their specific business requirements and deliver exceptional value.